Reduce Crime Together Cleanup in Brighton, Syracuse
About 30 ASEZ university student volunteers teamed up to clean up two vacant properties in Brighton, Syracuse. ASEZ worked together with the Greater Syracuse Land Bank, a non-profit for restoring vacant properties, to organize the event. On May 5, the students, from various universities, united to carry out the vacant property cleanup as part of the international "Reduce Crime Together" initiative.
ASEZ, the World Mission Society Church of God's student volunteer program, has students at several New York colleges. In Central New York, Syracuse University and Onondaga Community College are just a couple of the schools where ASEZ is active. The students made a goal of making the areas near Syracuse University's off-campus housing safer for students and residents.
The Effects of Vacant Properties on the Community
Vacant properties, also known as abandoned properties, are those that undergo foreclosure. These premises become unkempt and, according to researchers, act as visible signs of neighborhood disorder. This eventually hinders social cohesion and increases the risk of criminal activity.
Concerning these properties, Governor Andrew Cuomo stated, "Abandoned homes drag down surrounding property values, and the longer they languish, the more severe the ripple effects are that affect entire communities."
Studies have found that there is indeed a relationship between the presence of abandoned homes, which degrade the overall appearance of neighborhoods, and crime. With this in mind, ASEZ volunteers carried out the vacant property cleanup, creating a safer environment for their Brighton neighbors.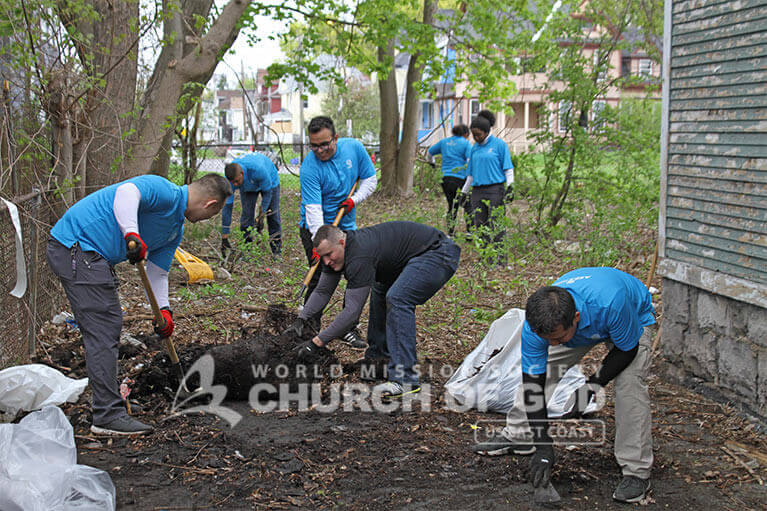 Brightening Up Brighton
ASEZ volunteers arrived at Brighton at 9 a.m., eager and ready to carry out the cleanup. They initially planned to clean one vacant property, however, after arriving at the site they saw another abandoned house across the street in worse condition. They decided to divide into two groups to tackle both properties. Additionally, the Syracuse Police Department's Deputy Chief Richard Shoff accompanied the volunteers throughout the entire cleanup.
In unity, they removed the debris that had accumulated in the front and back yards of the abandoned premises. Together, the volunteers collected a total of 40 bags of waste and debris. Furthermore, they filled a 20-yard dumpster with about 1,400 pounds of rubbish and miscellaneous household items.
During the cleanup, runners participating in the 41st Dunn Tire Mountain Goat Run passed by the cleanup. The volunteers cheered on the 1,900 runners as they passed by, chanting "don't stop, don't give up." The runners thanked the ASEZ volunteers saying things like, "I really needed this" or "you guys are awesome." Moreover, the runners were greatly pleased to see the volunteers sprucing up the neighborhood.
Reducing Crime Together in Syracuse
Many college and university students want to make a positive impact but often think that it is beyond their capability. However, the "Reduce Crime Together" movement proposes that it's possible. Something as small as picking up litter and cleaning up our neighborhoods can promote the change that we want to see. This can affect not only in our immediate surroundings but ultimately it can inspire change all throughout the world.
ASEZ's "Reduce Crime Together" campaign is a research-based initiative. It strives to reduce neighborhood crime by removing observable signs of disorder, such as litter and graffiti. Through these cleanups, ASEZ hopes that community members will be motivated to keep their communities clean and safe.
In regards to the campaign, Deputy Chief Shoff stated, "If you clean a property up it sends the message that people care, there's ownership of this, and even it's a subliminal message where people won't tend to throw garbage down in a clean space."
ASEZ members hope that Brighton residents will feel safer and happier and will continue the efforts to preserve their neighborhood. Working to serve their neighbors with the love of Heavenly Mother, the volunteers are looking forward to other future community service events. Contact us to learn more about volunteering with ASEZ or to recommend an activity in your area.