Reduce Crime Together: A Discussion on Community Involvement
On Thursday April 25, 2019, ASEZ university student volunteers from the World Mission Society Church of God held their New Jersey Crime Prevention Forum at Hudson County Community College in Jersey City, NJ.
Currently, there are ASEZ university student volunteers in more than 160 campuses worldwide. They take the lead in volunteerism, carrying out cleanups, graffiti removals and beautification projects on their campuses and in neighboring communities. All of these activities fall in line with ASEZ's implementation of the Sustainable Development Goals (SDGs). Through their "Reduce Crime Together" project, ASEZ volunteers are making efforts to eliminate crime in their communities and ultimately contribute to the establishment of a safe and peaceful human society.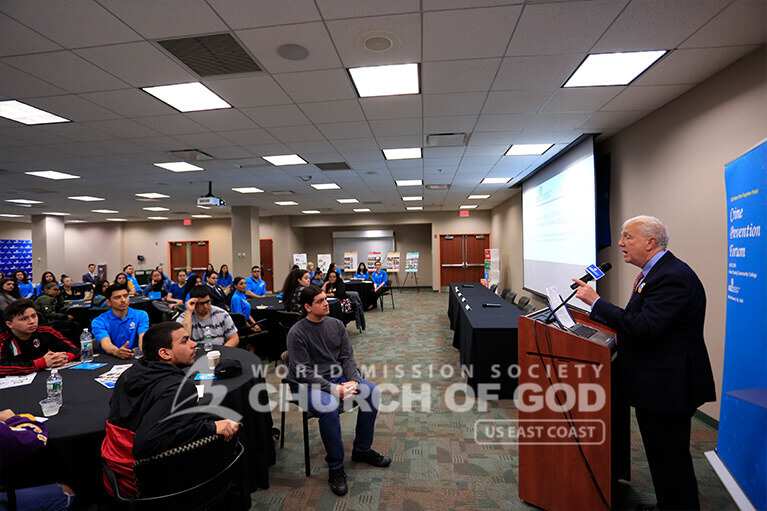 Inspiring the Youth to Take Action in Promoting Peace
A total of 75 attendees participated in the Crime Prevention Forum. However, this included not only ASEZ volunteers, but also their peers from Hudson Community College (HCCC). They all came together to discuss ways they can help promote safety and unity in their neighborhoods, starting with each individual.
The speakers from local municipalities and HCCC's faculty and staff also attended the event. Speakers included Councilman Rich Boggiano of Jersey City, HCCC's Assistant Dean of Student Life and Leadership Veronica Gerosimo, and Criminal Justice Professor Nicholetta Prince. Moved by ASEZ's altruism, the speakers encouraged the youth—future leaders—to continue volunteering, letting them know that their deeds will surely make a difference.
Everyone listened intently to the speakers with a firm resolution to take action to ensure the future safety of their communities. They also had an opportunity to ask the speakers questions and exchange ideas with them. Through this, the university students became even more inspired as the future leaders of tomorrow to firmly establish a peaceful and civil society.
Additionally, students new to ASEZ took the opportunity to learn about the volunteer group through a series of panels on display. Each panel featured a different facet of ASEZ's SAVE movement.
Working Together for a Hopeful Future
For outstanding volunteerism throughout New Jersey, the ASEZ volunteers received a proclamation from Hudson County Executive Thomas DeGise and a certificate of appreciation from Congressman Donald Payne Jr. The students were greatly encouraged by the recognition. Moreover, they hope this forum will promote a continuous collaboration between community leaders, students, and all community members.
ASEZ believes that if everyone works together with a mother's heart, true happiness can be achieved. They are determined to continue addressing the pressing issues of society. By partnering with elected officials, municipalities, universities and organizations, ASEZ will work to find workable solutions to crime and violence. Contact us to learn about future events and join in the global effort to ensure a peaceful future for mankind. Also, read about the Future Leaders Forum ASEZ students held in North Brunswick, NJ earlier this year.