ASEZ Students from Lehman College Unite with Other Local Colleges to Clean Their Backyard
On April 7, over 100 ASEZ university student volunteers from Lehman College joined forces with students from other nearby colleges. They cleaned Clason Point Park as part of their "Reduce Crime Together" campaign. The research-based initiative, based on the broken windows theory, contains the purpose of reducing crime through revitalizing highly polluted communal areas. When there are visible signs of crime, more crime tends to occur. However, by removing such signs, according to the research, crime decreases. Moreover, the initiative promotes social cohesion among community members.
Life in the Bronx can be hectic. However, for many NYC residents, Clason Point Park is a serene getaway from the frenzy and clamor of city life. Nestled in the center of the South Bronx, Clason Point is historically known for once having open fields of wild rabbits and pheasants. Additionally, it is also home to the Soundview Ferry, which connects the Bronx to Manhattan. However, despite the park's beauty and popularity, it has been significantly tarnished by litter buildup.
Seeing this, ASEZ decided to create a safer and more welcoming space for Clason Point residents. The ASEZ student group at Lehman College partnered with students from Bronx Community College and Westchester Community College to tackle the area. Family members and friends also joined the cleanup.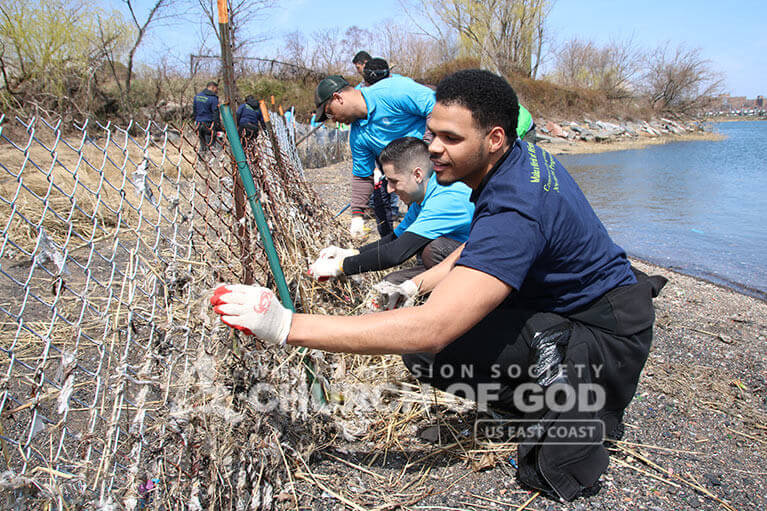 Determination and Energy Gets the Job Done
The volunteers worked in unity to clean the park's shoreline where much plastic and debris had accumulated. They worked with contagious energy throughout the entire event. Carrying decaying logs and other heavy debris wasn't an easy job. Nonetheless, thinking of the joy their efforts would bring to Clason Point residents allowed them to go the extra mile.
Daniel Reynolds, Bronx regional manager for the New York City Department of Parks and Recreation, attended the cleanup. He explained that Clason Point Park is heavily used by the community. Moreover, seeing ASEZ's determination to clean the park, he exclaimed, "You guys are the catalyst for change!"
Tyree Stevens, one the volunteers, admired how "everyone could come together as a collective [unit] to gather everything, clean it up and make this park a better place in the Bronx."
Finally, in the end, the volunteers' tireless labors of digging through brush and under fallen logs paid off. In total, they collected 162 bags of garbage. Afterwards, the NYC Department of Sanitation collected the trash and properly disposed.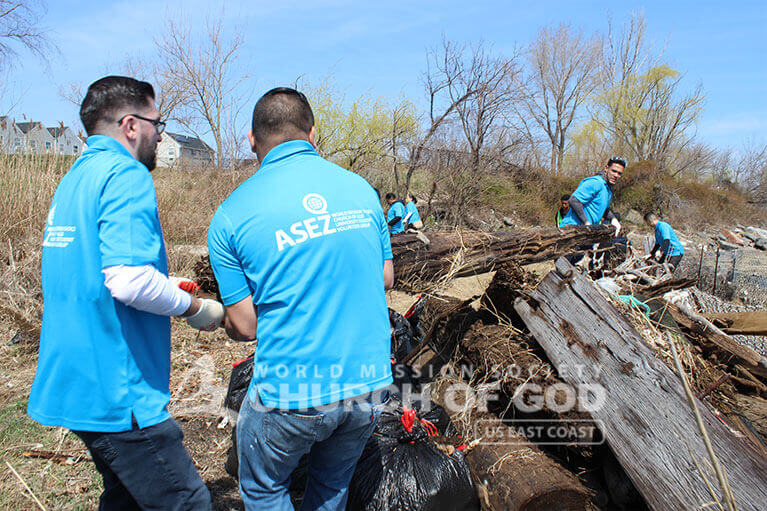 Making a Difference Together
Representatives from the local government and faculty members from Lehman College also joined in the cleanup. Furthermore, regardless of their affiliation—student or professor—every volunteer felt the same joy in participating.
"I'm thankful to join a group interested in cleaning the park for the use of the community," said Dr. Joseph Twumasi-Ankrah, adjunct professor at Lehman College.
Maryanne Joyce, a constituent services representative for New York State Senator Alessandra Biaggi, commented, "It's wonderful to see everyone coming out and pitching in to make the Bronx a cleaner and more sustainable place to live, and I'm happy to help."
ASEZ plans and carries out social services, awareness raising forums, victim relief, and environmental protection initiatives all year round. Additionally, through these activities, ASEZ university students from the World Mission Society Church of God are taking the lead in bringing about social and environmental change. They will continue to make every effort to promote happiness and peace by carrying out volunteer services whenever and wherever the opportunity arises. Contact us to learn more about ASEZ or to find out about future events.
News 12 and Bronx Times also payed a visit to Clason Point Park to report on the cleanup. Watch ASEZ in action on News 12 the Bronx and read the story published by Bronx Times.