ASEZ Volunteers Host a Graffiti Removal Project at Iconic Shopping Center
On June 23, 2019, ASEZ, the student volunteer group of the World Mission Society Church of God, carried out a graffiti removal project in the Río Piedras region of Puerto Rico. The group of young volunteers had the desire to beautify the Paseo de Diego in Río Piedras by removing graffiti tainting the area. ASEZ volunteers carried out the activity in accordance with the Reduce Crime Together campaign. They hope the cleaning decreases crime rates and improves commercial productivity in the area as a result.
The Paseo de Diego was recognized as an iconic shopping center in the capital city of Puerto Rico. However, more than 75% of its stores have closed due to vandalism and criminal activity. Additionally, the central space, which was once considered a family environment, has become desolate. So, the goal became to reduce crime in the area surrounding the University of Río Piedras. Volunteers partnered with Mayor Miguel Romero and local police to make their vision a reality.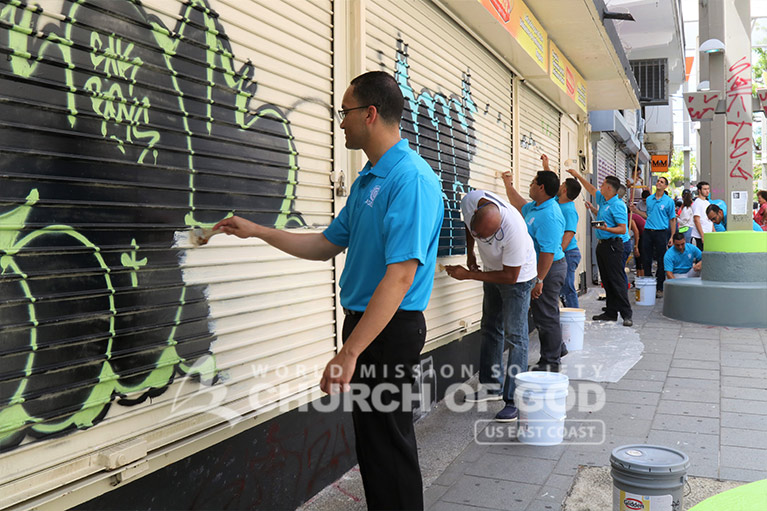 The Paseo de Diego Is Given a Complete Makeover
About 160 volunteers arrived at the affected location to start the project early in the morning. Also, family members of the volunteers, university peers, and local residents wanting to see a change in their neighborhood joined the event. With paintbrushes in hand, the participants removed the graffiti with vigor. Furthermore, the volunteers gave a fresh coat of paint to posts, benches, walls and rolling shutters.
Though they worked under the scorching sun and intense summer heat, the ASEZ members worked with unity and joy, showing sincere love for their neighbors. They all said that such love is that of a mother, which has the power to solve all problems.
ASEZ Volunteers Receive High Praises from Senators and Locals
The neighbors and merchants of the area were happy and grateful to ASEZ for carrying out the project. Manuel Amador, an owner of a local printing press, expressed his gratitude, saying, "I want to thank ASEZ for their initiative. They have made an incredible change. In a matter of hours they have done a great job."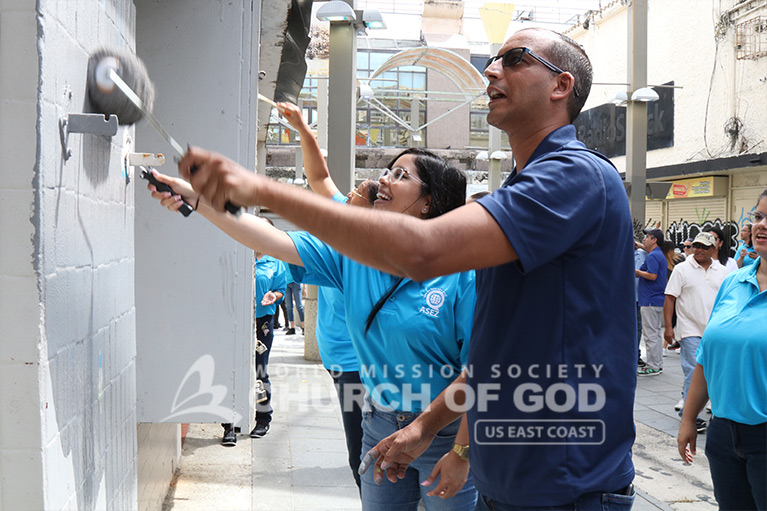 Moreover, Mayor Miguel Romero communicated his profound gratitude and admiration for the work of ASEZ. In addition, Senator Henry Neumann of San Juan said he was very pleased to see how the volunteers consider the conditions of Puerto Rico and seek to make a difference by improving the quality of life in the country.
As a result, the volunteer work had a tremendous impact on the community. ASEZ turned the Paseo de Diego into a welcoming and safe environment for the residents of Río Piedras. The volunteers couldn't be more thankful for such a gracious outcome.
Contact us to learn more about how you can get involved in ASEZ Activities.