Uniting the Community to Reduce and Prevent Crime
On Sunday April 28, 2019, ASEZ (Save The Earth from A to Z) held the Crime Prevention Forum in Newport News, Virginia. The forum focused on ASEZ "Reduce Crime Together" initiative. Moreover, it provided a platform on how community members and leaders can work together to create safe and peaceful communities.
More than 90 ASEZ university students and guests joined together to participate in the forum. Attendees also included local law enforcement and professionals of various backgrounds. Together with the ASEZ student volunteers, they discussed ways they can work together to reduce crime in Virginia.
Upon arrival, guests viewed panels showcasing ASEZ's SAVE movement being carried out in more than 175 countries. The panels also displayed the awards the student volunteers have received at the international and national level. Additionally, they participated in creative and interactive SDG (Sustainable Development Goal) games. One of them, called Hammer Time, involved choosing a negative behavior they would like to see removed from the world, knocking it down with a hammer.
Discussing How We Can Work Together
The forum itself focused on a few key points as vital components for reducing crime in our communities. Such points included youth involvement, community engagement and social responsibility. Speakers included Newport News Police Chief Steve Drew; Newport News Sheriff Gabriel Morgan; Professor Daniel Warman of Norfolk State University; and the well-known attorney Jeffrey Riddle.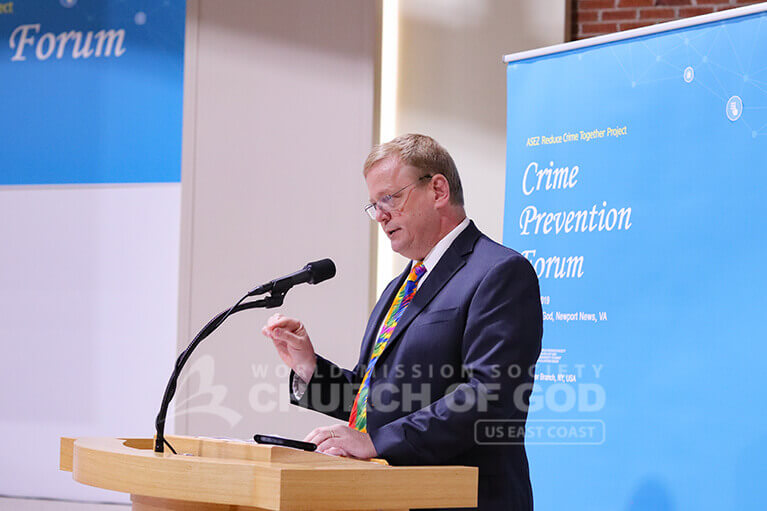 Each speaker emphasized the importance of education and engagement in accomplishing the goal to reduce crime. They also highlighted ASEZ's three-pronged approach—raising awareness, activities and global partnerships—to prevent crime. Furthermore, they stressed how important ASEZ is in bridging the gap between volunteerism and the community, through care, concern and consideration of their neighbors.
"You can reduce crime by impacting others, you all are really on to something," said Newport News Sheriff Gabriel Morgan. "I can tell you that seeing this many young people, working to make a difference and volunteering their time is just tremendous. And I think that it will go a long way in changing the community."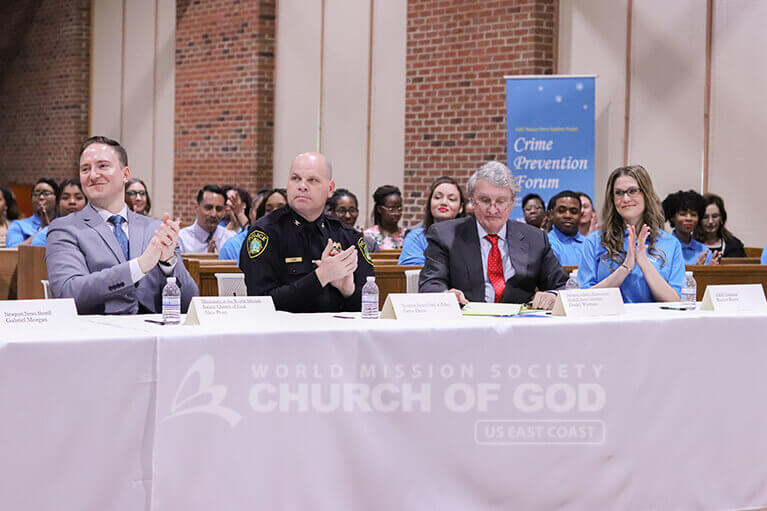 As each speaker presented, the audience received Q&A slips to encourage engagement with the officials and leaders. Following the presentations, students and various guests participated in the Q&A session, asking questions and voicing their thoughts.
"I believe your organization is phenomenal; to have the support of the police, sheriff's department and attorneys who were on your panel showed a huge response—a positive response. I believe, knowing many of them personally, they will continue to grow with your organization and do everything possible to make your vision a reality," said attendee Shawnie BaCote, founder and owner of BaCote Enterprises LLC.

Establishing New Relationships for the Future
After the presentations concluded, all guest speakers signed MOUs. They signed the MOUs to support ASEZ and to work with them on future events. Moreover, ASEZ received an encouraging letter from U.S. Senator Mark Warner, who represents Virginia, supporting the efforts and good deeds of ASEZ. Afterwards, all of the panelists and ASEZ students posed for a few photos.
Everyone received a lot of inspiration, knowing that when we take the right steps and work together, it is possible to achieve a higher level of safety in our communities. Following the Crime Prevention Forum, ASEZ volunteers expressed how they feel even more empowered to become the spark to change the world for the better.
To learn more about the forum, you can view it on 13 News Now (WVEC). Also, feel free to contact us to learn more about ASEZ and find out how you can participate in future events.