ASEZ Beautifies Roger Williams Park
On November 18, 2018, more than 50 ASEZ (Saving the Earth from A to Z) university student volunteers from the World Mission Society Church of God in Rhode Island and Connecticut cleaned up Roger Williams National Memorial Park in Providence, Rhode Island. The volunteers carried out the cleanup with the goal of sharing the love of God the Father and God the Mother with residents by contributing to a clean environment.
Parks serve as a public space for community members to enjoy nature and scenery amidst a busy city. To maintain Roger Williams Park's beauty, the volunteers picked up leaves throughout the park to help cultivate a safer and friendlier environment for the community. As a result of their united efforts, the volunteers collected and disposed of more than 150 bags of leaves and trash!
Paul Logozzo, Roger Williams Park's sole caretaker, expressed his hopes for a continued partnership with the ASEZ volunteer group to help maintain the park's cleanliness and preserve the beauty of this 4.56-acre national and historic gem. The amount of leaves the volunteers collected in one day usually takes Logozzo more than a month to accomplish. He praised the volunteers for working so diligently and making such a tremendous impact.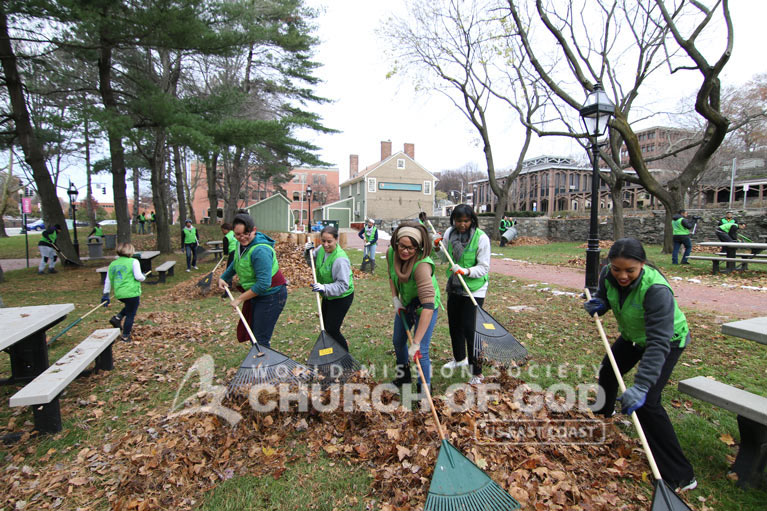 The Reactions After the Cleanup
"Thanks for giving up your time this morning to help us out here," said Logozzo. "We appreciate your group for coming and value you because we can't do this without all the volunteers. I can feel the energy from the volunteers. I appreciate your work. Thanks so much for coming."
A Providence resident, who regularly visits Roger Williams Park to walk her dog, also compliments the volunteers' efforts, saying, "Thank you! You guys did a great job!"
Roxie Dunbar, a member of the Church of God in Rhode Island and a Providence native shared her thoughts on community service participation, saying, "I enjoy volunteering because of the positive impact it has on other people. Not only are we caring for the environment, but citizens can be inspired to join us in the effort to keep the park clean. Seeing so many people willing to give up their time to serve their community is really a breath of fresh air."
The World Mission Society Church of God regularly holds cleanups and other community service events both locally and worldwide. Volunteers also participate in various community service events, including blood drives, nursing home visits, book/clothing drives and disaster relief efforts. Visit our contact page to find out how to volunteer with ASEZ or the Church of God.