Church of God volunteers along the East Coast hosted blood drives starting in April 2023. The events were to share the news of the New Covenant Passover with their neighbors. Also, volunteers felt compelled to respond to the blood shortage throughout the U.S.
National Blood Shortage Crisis
Blood centers throughout the country have experienced a blood shortage crisis during 2023. They've counted on volunteers to donate all blood types as quickly as possible to help save lives. The pandemic limited the number of donors, leading to national blood shortages. The need for blood donations is constant. They can help save the lives of people involved in accidents, surgeries, and ongoing medical treatments. As a result, Church of God volunteers hosted blood drives in 7 locations on the East Coast and in the Caribbean.
The Churches of God in New York City, Louisville, Buffalo, Long Island, Newport News, San Juan, and Cranford, NJ, rose to the challenge and organized blood drives in each area. They partnered with local blood centers such as the American Red Cross, New York Blood Center and more.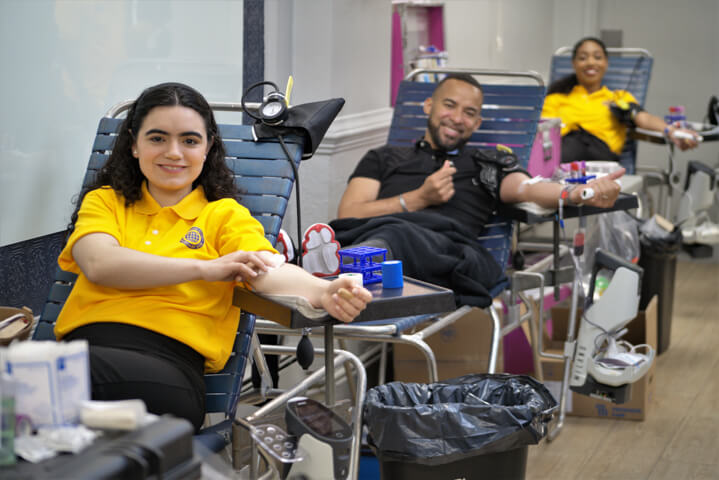 Volunteers Come Together for the Cause
Eric Adams, the Mayor of NYC joined volunteers at the Haier Building (formerly known as Gotham Hall). Volunteers received a Certificate of Recognition signed by Mayor Eric Adams for their efforts. He stated, "I applaud this house of worship for rising to the occasion to unite hundreds of volunteers to donate a lifesaving resource. World Mission Society Church of God has hosted more than 1,000 blood drives here and around the world, and I applaud the church for the benefit it has brought to the five boroughs." 
In Newport News, Mayor Phillip Jones and Delegate Shelly Simonds attended. They gave words of appreciation to the volunteers for their dedication to the community. Delegate Simonds said, "Finally I'm just really excited to be here today to be able to say thank you to all of the volunteers who've spent their day making sure that we have enough blood resources in the community to keep our hospitals stocked with life-saving blood. I know myself it's made an impact in my life and my family's life so thank you for dedicating your time and your talents to this blood drive today."
In San Juan, Puerto Rico, 50 Church of God volunteers and 63 guests attended the drive at the Apheresis Center of the Mutual Services Blood Bank. They collected about 131 pints of blood.
At the blood drive on Long Island, volunteers collected 53 pints of blood. Kevin Fitzgerald, the mayor of Floral Park; Dr. Lynn Pombonyo, the Deputy Mayor and Jennifer Stewart one of the trustees of Floral Park were able to come and show their appreciation for volunteers' efforts. Assemblywoman Michaelle Solages awarded the Church of God a citation for their good deeds in the community. "[This blood drive] is saving a life, as we were talking about this blood emergency and it's really timely that you are doing this, so thank you so much for doing this."