On Thursday, June 22, 2023, 18 ASEZ volunteers partnered with Charles River Conservancy to clean Riverbend Park in Cambridge, MA. This cleanup was part of the ASEZ Blue Carbon (ABC) Movement that aims to protect blue carbon ecosystems worldwide. In total, the volunteers removed 10 bags of trash weighing 25 lbs. from the waterway.
Riverbend Park, which runs along the Charles River, has a striking view of the Boston skyline and is a popular destination for both tourists and residents. Located near Harvard University and Mount Auburn Hospital, it is also visited by many students and workers. Since the park is heavily used, consistent care is needed to maintain its cleanliness.
At 10 a.m. ASEZ volunteers began cleaning the waterway with gloves, trash pickers, and bags supplied by Charles River Conservancy. With bright smiles, the volunteers cleared trash from both the land and the water. Waste findings included Styrofoam plates, plastic wrappers, and discarded cigarettes.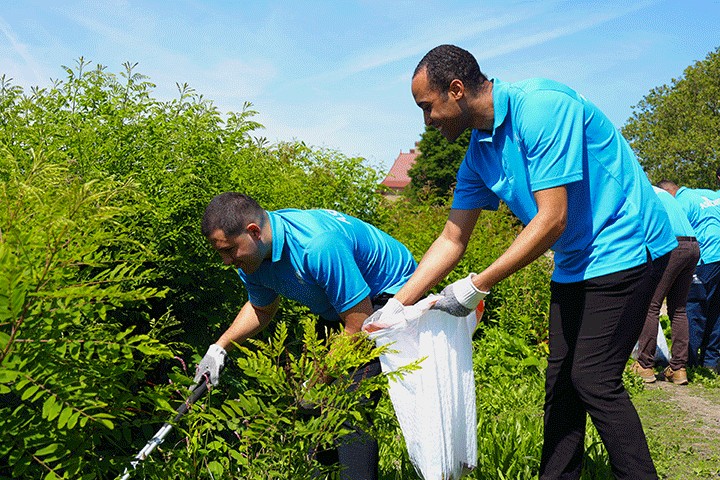 ASEZ volunteer Quinnten Silveira-Charbonnier said, "Only about 1.5% of these blue carbon areas are legally protected. ASEZ is carrying out the ASEZ Blue Carbon (ABC) Movement to raise awareness of the climate crisis and combat climate change. By raising awareness, we can take action together."
ASEZ Blue Carbon Campaign
The ASEZ Blue Carbon Movement focuses on protecting coastal and marine ecosystems. These ecosystems are especially important in maintaining a healthy earth. Why? They absorb carbon from the air and reduce the amount of greenhouse gases released into the atmosphere. This is why ASEZ is taking immediate action in communities worldwide. This cleanup also played a hand in accomplishing the United Nations' Sustainable Development Goal (SDG) #13, Climate Action. This goal aims to combat climate change and its impacts.
ASEZ volunteers will continue to work toward protecting blue carbon ecosystems. By uniting through cleanups and campaigns, the global community can strive towards a cleaner earth. To see more ASEZ volunteer events on the east coast, please click here.