On Sunday, August 13, 2023, ASEZ volunteers cleaned up Salem Willows Park in Salem, Massachusetts. The event was part of the ASEZ Blue Carbon (ABC) Movement that focuses on protecting blue carbon ecosystems worldwide. Together with Salem Parks and Recreation, the volunteers removed 6 bags of trash weighing 250 lbs. from the waterway.
This cleanup was a continuation of an information session held at Salem Common for the ASEZ Blue Carbon Movement. Salem City Councilor-at-Large Domingo Dominguez supported ASEZ by attending the session held the previous Thursday. He expressed, "Thank you for the great work that you're doing. Cleaning our park in Salem is tremendous, extraordinary work. Thank you to the volunteers; thank you to the organizers; thank you to everyone involved. I encourage everybody watching this video to get united with this group."
ASEZ Volunteer Timothy White said, "The volunteers here are cleaning Willows Park as part of a larger movement to clear our walkways of trash, microlitter, and other harmful materials. I'm excited because I feel that I'm making an impact toward achieving carbon neutrality. Young adults can make a big difference in protecting our coastal ecosystems."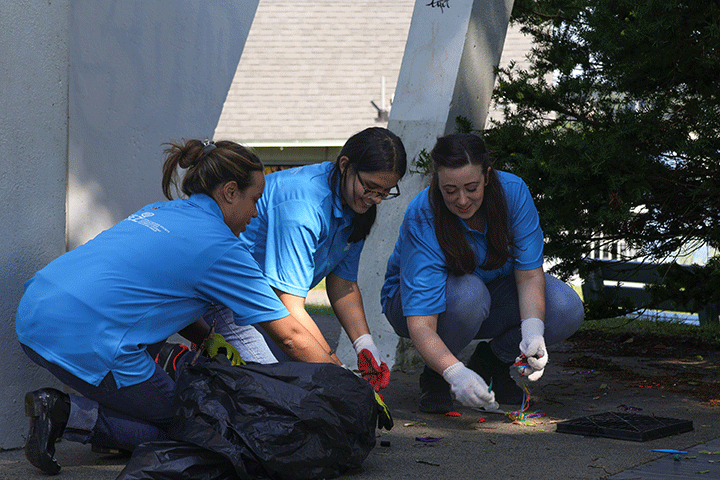 About the ABC Movement
Why is raising awareness about blue carbon so important? Coastal ecosystems efficiently absorb carbon from the air and reduce greenhouse gases from being released into the atmosphere. So, by caring for these ecosystems and reducing carbon emissions it slows down the rate of climate change around the world.
In addition, raising awareness of blue carbon accomplishes SDG #13, "Climate Action," which combats climate change and its impacts. As a result, ASEZ volunteers will continue to work diligently toward the goal of protecting blue carbon ecosystems worldwide. To view more ASEZ activities carried out along the East Coast, please click here.