Research has shown that 80% of the plastic in our water comes from land. We use about a trillion plastic bags, 5 billion plastic straws and 55 billion plastic bottles every year. When people throw away plastic, it rolls around, reaches a river or reservoir and flows into the ocean. It then threatens marine life and the overall quality of our environment.
So, ASEZ WAO volunteers invited their coworkers to the Green Workplace Project event at the Church of God in Bayamon, Puerto Rico. The event's goal was to emphasize that our small effort positively impacts carbon reduction, climate change and global warming. Using a reusable cup instead of a disposable one results in less single-use plastic. So volunteers invited their colleagues to an event to design reusable cups for the Green Workplace project.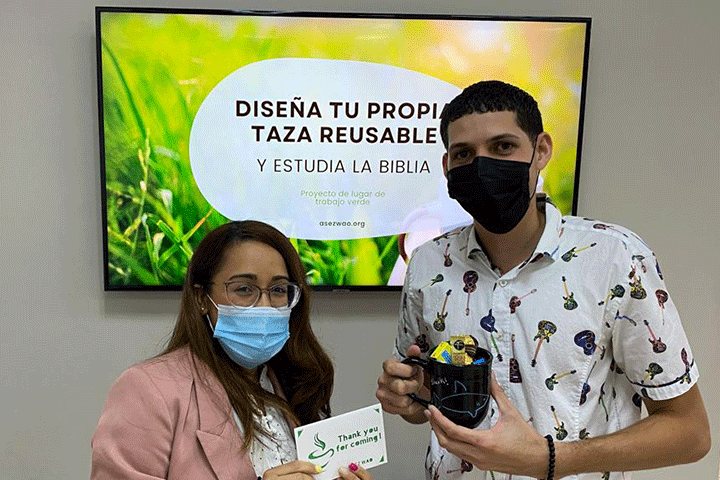 Reusable Cups Change the World
Research shows that using reusable cups instead of plastic can significantly impact the planet. Putting our beverages in a reusable container instead of plastic saves natural resources, protects waterways, protects marine life, and emits fewer harmful gases. So, the simple thought of using a reusable container for our drinks can go a long way for the environment.
Guests watched the ASEZ WAO introduction video to learn more about the volunteers' work globally. Afterward, the event started, and guests began to create their mug designs. As the cups baked, guests learned about The Seal of God through a Bible seminar. It went over Bible prophecy, its fulfillment, and how to receive protection from disaster. Moreover, they promised to return for Bible studies and participate in future ASEZ WAO events.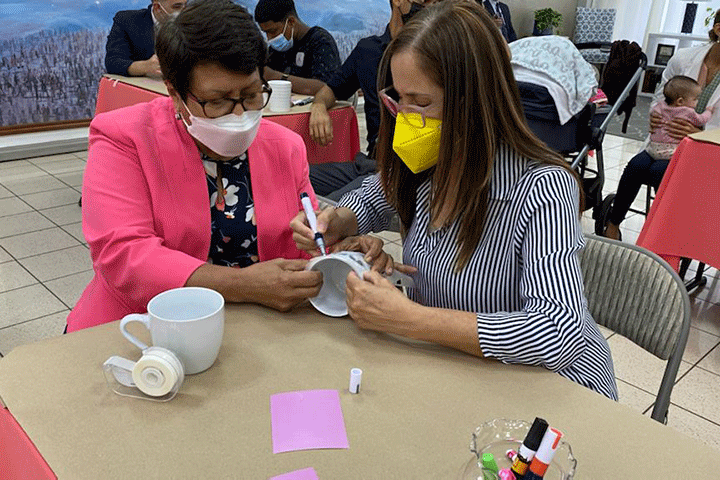 A Green Workplace to Achieve the SDGs
In the end, the participants understood the importance of sustainable habits and why we should make small efforts to change the future of humanity. ASEZ WAO aims to make the SDGs a reality. Designing a reusable cup helps progress toward SDG goal 6 Clean Water and Sanitation; goal 12 Responsible Consumption and Production; and goal 14 Life Below Water. Volunteers around the world strive to do their part to help save the planet and create a more sustainable future.
Click here to see more activities from ASEZ WAO volunteers!