ASEZ Cleanup at the University of Puerto Rico in Aquadilla
On October 21, 2018, ASEZ volunteers from Aguadilla, Puerto Rico carried out a "Mother's Street" cleanup at the University of Puerto Rico. The student volunteers from ASEZ (Save the Earth from A to Z), are carrying out the "Mother's Street" movement all around the world. In this way, they serve their community with the heart of God the Mother, who always serves Her children with a heart full of sacrifice and unconditional love.
ASEZ university students voluntarily participate in various community services in regions where the World Mission Society Church of God is located. With some many issues, such as environmental pollution, crime, and economic recession, the world is in a crisis. This is where ASEZ steps in, raising awareness on the importance of maintaining a planet free of crime and violence. With this attitude, young adults from ASEZ are actively participating in volunteerism and making a difference in their communities.
The University of Puerto Rico at Aguadilla (UPRA) has a total population of nearly 3,400 active students. However, crime, violence, and other unfortunate circumstances all are factors that may have impacted their lives in one way or another. To promote positivity on campus, the ASEZ volunteers decided to carry out the "Mother's Street" campus cleanup under the "Reduce Crime Together" initiative.
Student Volunteers Brighten the Campus with Their Smiles and Dedication
A total of 40 university student volunteers participated in the cleanup. Two university campus officers also attended: Security Supervisor Edwin Vazquez and Dean of Student Affairs Pablo Ramirez.
The volunteers divided into various teams in order to work diligently under the sunny weather. With much enthusiasm and bright faces, the volunteers began to work in unity and harmony. Some teams took care of the landscaping, painting and garbage pickup areas, while others cleaned the main streets of the university.
All the volunteers worked with one heart and mind. Mr. Ramirez was shocked and moved by the hard work that the ASEZ members exhibited. Mr. Vazquez was also impressed and even joined the street cleaning. The result of the event was impressive; 35 bags totaling 1,400 pounds of garbage and brush were collected in a 3-hour period. At the end of the event, Mr. Ramirez expressed great pleasure and gratitude towards the members for taking the initiative to help out on campus. He solidified his support of ASEZ by signing an MOU for the "Reduce Crime Together" initiative.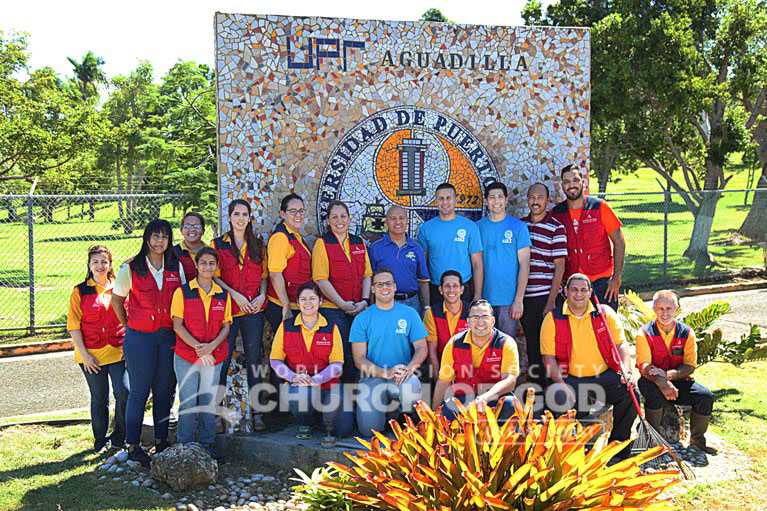 "I congratulate you for this positive initiative that motivates students to cooperate and help," said Mr. Ramirez. "I congratulate you for being members of your church and for being an example of youth helping those in need to take charge of the country."
ASEZ student volunteers will continue to channel Mother's heart through future community services on the island of Puerto Rico and worldwide. Contact us to learn more about volunteering with ASEZ and how to help your community.