On October 28, ASEZ university student volunteers in Buffalo, NY cleaned up Winspear Road as part of the worldwide "Reduce Crime Together" initiative. ASEZ puts great emphasis on practicing the implementation efforts of the United Nations' SDGs (Sustainable Development Goals). Specifically, SDG #16, to "promote just, peaceful and inclusive societies," is a big part of the "Reduce Crime Together" campaign.
ASEZ which means "Save the Earth from A to Z" is part of the World Mission Society Church of God. The volunteer group consists of college students and members from the Church of God who carry out worldwide social welfare movements.
The volunteers organize and perform various community service activities in the 175 countries where the church is located with a vision to unite students around the world with one heart. People are divided by ethnicity, location and culture. However, ASEZ strives to make the future bright and happy for all seven billion people in the world by sharing Mother's love. Through the global "Mother's Street" movement, ASEZ volunteers are cleaning up over 7,000 different regions and 800 universities by the end of the year.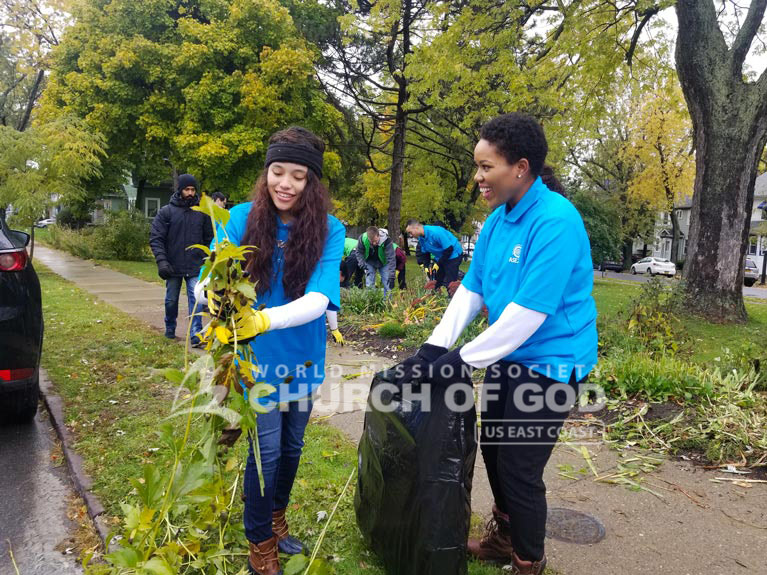 Unfortunately, the university recently experienced crime activity. Nevertheless, this cleanup provided an outlet to display the necessity of caring for the community to deter crime. Additionally, Winspear Road, adjacent to the University at Buffalo's South Campus, contains off-campus student housing. This made it the perfect spot to beautify.
The University Heights Tool Library welcomed the 23 volunteers, consisting of ASEZ members and students from SUNY Buffalo. Moreover, they provided them with necessary supplies. The volunteers removed debris and excess vegetation from the flowerbeds to prepare it for winter. They also removed weeds from the streets and sidewalks. In total, the volunteers collected 10 bags of dead plants, weeds and other refuse.
"I was joyful and willing to pitch in to help anyway I could," said Brittany Boyd, an ASEZ volunteer. "This is a worldwide event and over 800 universities realized that when areas near campuses are cleaned and beautified, crime is reduced. So, with the love of Mother, we cleaned some flowerbeds near University at Buffalo's South Campus and removed weeds on the sidewalk."
On the East Coast, events have taken place in New York cities such as Albany, Rochester and Syracuse. Furthermore, ASEZ volunteers in Connecticut, Virginia, New Jersey, Massachusetts, Pennsylvania and Kentucky held cleanups of their own. The University of Connecticut, Temple University, and Farleigh Dickinson University are among the colleges with ASEZ volunteer participation. Cleanups also took place in South Korea, Brazil, Malaysia, and the Philippines.