With the cold winter upon us, what better way to prepare than with a hands-on kimchi-making festival? On Sunday, December 18, the New Windsor Church of God hosted the Hudson Valley Kimchi Festival 2016 to bring the community together, promote healthy eating, and continue the global celebration of the Church receiving the Queen's Award for Voluntary Service.
In Korea, relatives and neighbors traditionally help each other prepare kimchi for the wintertime. Furthermore, this tradition brings families closer together and helps develop specials bond among family members.
Dressed in festive kimchi-making garments—aprons, headbands and arm-length gloves—instructors guided guests on how to prepare the delicious vegetable dish. Festivalgoers were all able to dig in and mix in the seasonings onto the head of cabbage. While combining the perfect balance of ingredients and seasonings, they made their own kimchi and even took some to go.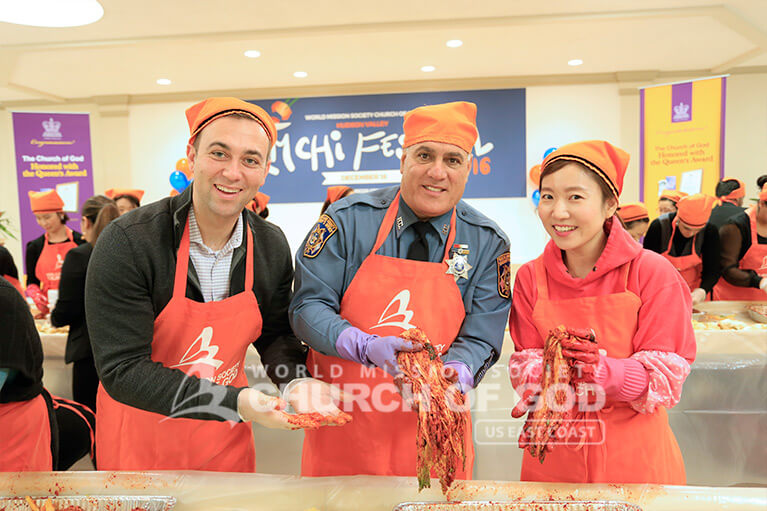 Even though kimchi has its roots in the far-off land in the East, it's clear that its popularity has grown in the West because of its many health benefits. Evidently, many of the attendees were already familiar with kimchi and had been purchasing it or even preparing it at home. Others, though having little exposure to Korean culture, were thrilled to learn how to make Korea's national dish.
Festivalgoers also explored the eight different food stations featuring other famous Korean dishes. Choices included dwaeji bulgogi (marinated grilled pork), gimbap (seaweed rice rolls), galbi (marinated short ribs), Korean pancakes made with seafood and even Bubble Tea. Attendees sampled the various dishes until finding the perfect match for their taste buds.
Music was also a major part of the Hudson Valley Kimchi Festival. The New York Church of God Orchestra played soothing melodies in the background while participants made kimchi. They even played the famous Korean lullaby, "A Baby Lives in the Island." In addition, Elohim Samulnori, a Korean-style percussion group, dazzled everyone with their thunderous rendition of traditional Korean harvest music.
Check out the Hudson Valley Kimchi Festival 2016 featured in the news:
https://www.hvmag.com/Fermented-Foodie-Finds/
https://www.recordonline.com/news/20161218/kimchi-festival-in-new-windsor-celebrates-korean-culture