On October 27, 20 ASEZ (Save the Earth from A to Z) volunteers from New Hampshire and Massachusetts joined forces to clean Granite Street Bridge in Manchester, NH. Bracing themselves for the chilly and rainy weather, the volunteers geared up in ponchos and gloves and met early in the morning at the site, ready to revamp the area.
Granite Street Bridge is considered to be a historical and cultural hallmark in Manchester. First built in 1954, it remains an important infrastructure for the residents and visitors of Hillsborough County. Considering the effect that visible disorder has on the overall cohesion and safety of communities, ASEZ volunteers decided to carry out this Reduce Crime Together cleanup to create a safe environment for their neighbors and classmates.
Cultivating a Safer Manchester
Before the cleanup began, the Mayor of the City of Manchester Joyce Craig shared words of encouragement with the volunteers.
"I just want to say thank you so much to all of you for being out here. Your commitment and care and empathy for individuals in our community and your desire to really make a difference in helping to cleanup means the world to me and to all of us in Manchester. I just really want to give a heartfelt thank you for all that you do, and I look forward to working with you in the future," said Mayor Craig with a warm smile.
A bright blue tent and panels were also set up, displaying ASEZ's works and awards all throughout the world. Members from the community were encouraged to learn more about the group and join local efforts.
The cleanup itself began at the stairs descending off the bridge towards the underpass of the bridge. Autumn leaves spread everywhere, covering debris left behind. ASEZ volunteers paired up with trash bags, picking around bushes and leaf piles and collecting carton boards and other trash. Once clean, the volunteers moved further down towards the riverbank of the Merrimack River.
Despite the decrease in temperature, the volunteers carefully cleared up the riverbank where they found a shopping cart, parts of bicycles and an air conditioner. By the end of the cleanup, the volunteers had collected 41 trash bags, averaging more than 400 pounds of trash!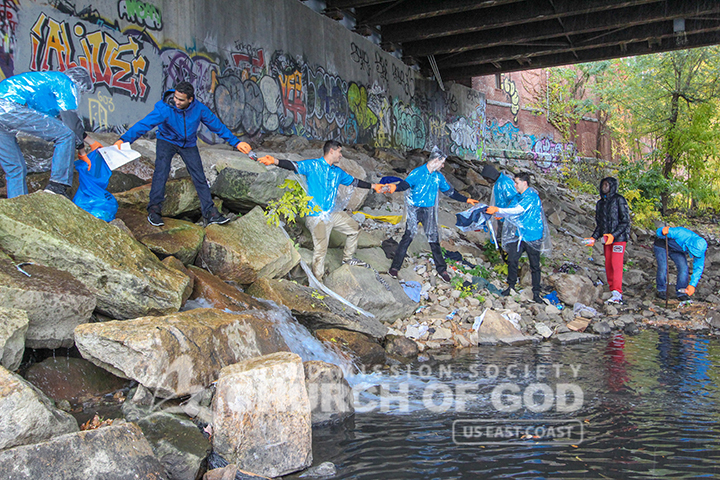 Sharing the Love of Mother With Manchester
ASEZ volunteers in New Hampshire hope that the newly cleaned bridge will bring comfort to the residents of Manchester, and in turn, cultivate a sense of peace and safety. They will continue to serve not only their own but also nearby neighborhoods and campuses with the love of Mother. Their goal is that through volunteer services carried out with Mother's unconditional and sincere love, everyone will unite and make efforts to better their communities.