For the past seven years, the World Mission Society Church of God and the American Littoral Society have been working together to make Jamaica Bay and its 13,000-acre nature preservation a sustainable habitat for wildlife and a serene getaway for the community. On Earth Day 2015, Church of God volunteers from Bogota and Passaic, New Jersey and Long Island, New York participated in the Worldwide Environmental Cleanup Campaign for Passover 2015. Through this movement, the Church of God hopes to not only educate people on the importance of environmental preservation, but to also let people understand the way to preserve human life, which is through the sacred assembly of the Passover.
"Let's just say that when we find a difficult place to clean, we know that there is no one that can help us clean it like the Church of God," said Lisa Scheppke, Restoration Project Coordinator for the American Littoral Society.
The volunteers worked vigorously to clear Jamaica Bay in spite of what looked like a daunting amount of debris and garbage.
"We value the Church of God so much and admire the way you guys work. It's just amazing. The cohesiveness, it is inspiring," Lisa stated. "You're helping us to remove debris that would otherwise become harmful to the animals who live here."
Finding garbage, pieces of rotten wood, a shopping cart, rusted metal, computer parts, a barbecue grill, and even a five and a half foot tire, 150 Church of God volunteers extracted more than 6,000 pounds of debris from Spring Creek in Gateway National Park, Jamaica Bay. What should have taken more than four hours to clean, the volunteers were able to clean up in half the time. Results like this made a deep impression on new American Littoral Society staff member, Theresa Crupi.
"I've been working with the Littoral Society since November and I've heard so many great things from Don [Riepe] and Elizabeth [Stoehr] about how hard you guys work and how you guys always come to volunteer with massive amounts of people and it's just so impressive," said Theresa. "There was a ton of debris and now this is like a brand new shoreline. I'd really like to work with you all again."
The day began with excitement from the members of the Church of God and ended with satisfaction and gratitude from the American Littoral Society.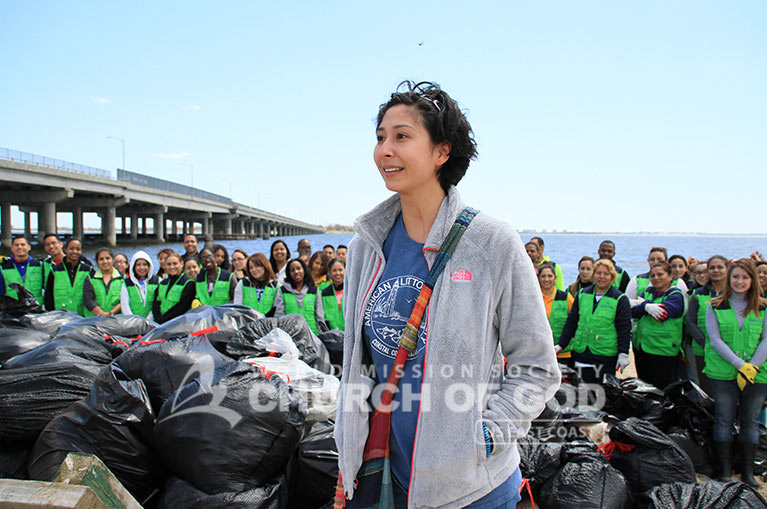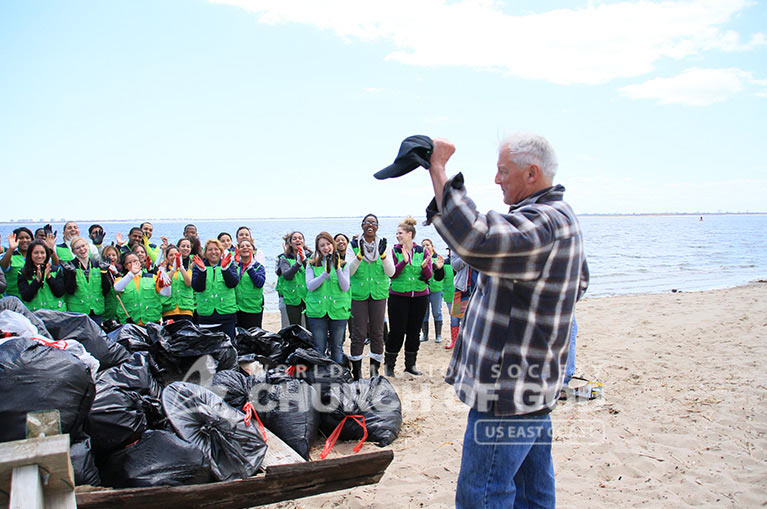 "There were tons of debris, literally tons of debris. Now if you look down the shoreline, totally clean," expressed Don Riepe, American Littoral Society Chapter Director.
Although the members of the Church of God may have done the heavy lifting, their strength comes from their faith in Heavenly Mother, who sets the example for members worldwide to serve the community with a humble heart and mind. When asked if he had a message for Heavenly Mother, Don exclaimed, "Heavenly Mother, you have a great army of volunteers here, all these wonderful young people doing great missionary work here on earth."