In just a few hours on June 23, thunderstorms pounded the state of West Virginia with torrential rainfall. The accumulation of more than nine inches led to disastrous flash flooding across most of the state. Runoff caused the water level of the Elk River—a major river in West Virginia—to reach over 33 feet, breaking the previous record of 32 feet set in 1888.
Thousands of homes and other buildings were destroyed, damaged or even completely washed away. And at least 25 people lost their lives. Many of the affected areas went days without power, gas, and water. Eighty percent of the state was in a state of emergency.
Immediately, on June 26, World Mission Society Church of God volunteers from neighboring states responded to the emergency in West Virginia to help with disaster relief efforts.
But after seeing the extent of the destruction, they realized they needed more help. More than 260 volunteers decided to spend their Independence Day weekend helping clean up Clendenin, WV. Volunteers went door to door in small groups removing mud, debris, water-damaged sheetrock and other materials from homes, piling it all along the streets so dumpster crews could later collect and remove them. What would have taken homeowners weeks or even months to finish, volunteers were able to accomplish quickly working in unity.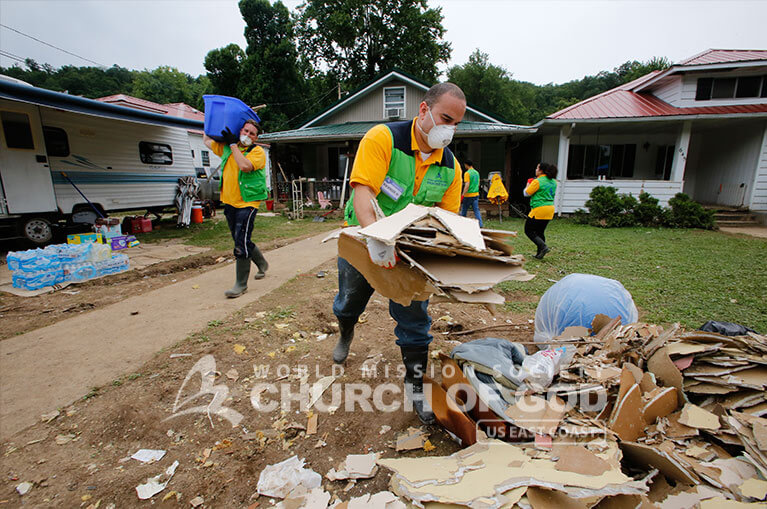 The Church of God volunteers also set up USA-themed tents where they served a hearty lunch; they also provided snacks to flood victims and other volunteers; they distributed non-perishable food, drinking water, cleaning supplies, hygiene items, toys, diapers, and other goods; they even had face painting for children.
Following the relief efforts, a Clendenin resident sent a message to the Church of God volunteers:
"I would like to express my most sincere thanks for all the help your group provided to the flood victims in Clendenin, WV this weekend. I am a volunteering neighbor who had the "pleasure" of wallowing around in the mud [and] stench with one of your groups while cleaning up a family's flooded basement [and] garage…It smelled so bad to me that I could only be in the basement for a brief time before I almost lost my lunch [three] times, but your people endured [and] did a great job. I know the residents that you helped appreciated you being there more than I can express. I also had the best hot dog ever from your group; the topping was excellent. Please get me the recipe. Once again, thank you so very much."
In a time when the residents were overwhelmed with loss, grief, and seemingly unending work ahead of them, Church of God volunteers brought working hands. And, more importantly, they brought hope to the victims through the love of Heavenly Mother.