East Coast Volunteer Service Day 2016
On Sunday, September 25, 2016, the World Mission Society Churches of God united to serve their neighbors through the East Coast Volunteer Service Day campaign. The church recently received the Queen's award in the United Kingdom for outstanding volunteerism, which inspired the campaign. Churches of God from New Hampshire to Florida, and even in the Dominican Republic and Puerto Rico, held volunteer efforts in their local areas. To join the effort, the Church of God in Hudson held an entertainment event for Laurel Place Assisted Living residents.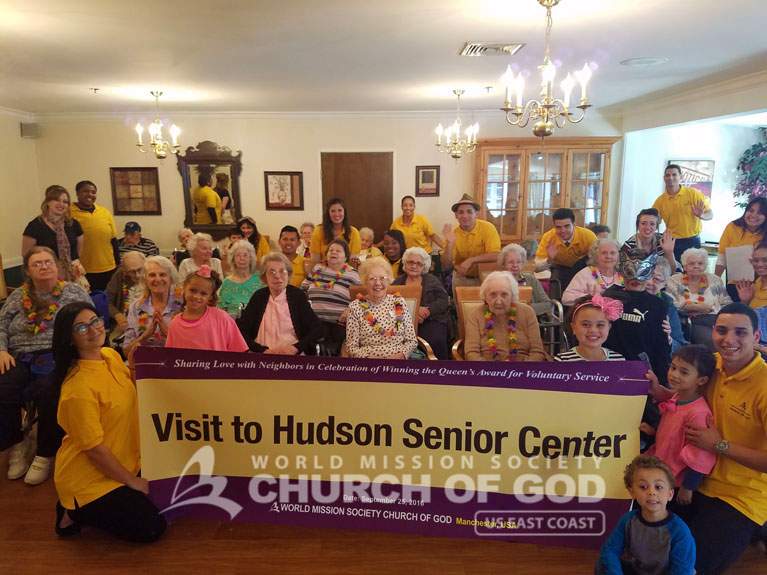 To entertain and cheer up those who have worked hard serving others for many years, volunteers prepared various performances. With a sincere heart, volunteers took time and dedication to create acts, to bring joy and excitement to the residents. Performances included skits, dancing as well as singing classic hits from Frank Sinatra, Roy Orbison's "Pretty Woman" and much more. Even the elementary school-aged children worked hard to perform a Three Little Pigs skit. The skit melted the hearts of the residents.
The visit pleased the staff and residents at Laurel Place, and they all enjoyed the show. The residents were happy and energetic as they swayed to the music and even sang along.
One resident stated, "Many people visit us here, even some church groups, but none have been so genuine and kindhearted as these people here today."
There was mutual appreciation between the staff, residents and church members for the energy, smiles and warmth shared. The performances of the members engaged the residents who were eager to participate. Because they were so bright and encouraging, it made the event that much more fun and rewarding for the members.
Church of God volunteers genuinely enjoy serving others, following the example and teachings of God the Mother. The Church of God in Hudson looks forward to giving back to the community through future events like this one.